PROF. DR. NEERAJ KUMAR FULORIA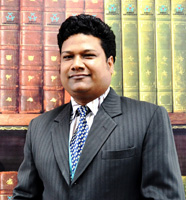 Professor
Unit:
Pharmaceutical Chemistry
Qualifications:
Ph.D Pharmacy (Gautam Buddh Technical University, India) in 2010
M Pharm (Rajiv Gandhi University Health Sciences, India) in 2003.
B.Pharm (Gulburga University, India) in 1998.
PDCTM (RAHE, Academy, India) in 2007.
Research Interest:
Interested in design, synthesis, and biological screening of anti-infectives, antibiotics, antituberculars, antioxidants, anti-inflammatory, antimalarials, antivirals and anticancer agents etc.
Also interested in phytochemical investigation (isolation) and spectral interpretation/characterization of compounds.