The Future of Biotechnology Industry After Covid-19
Health-care professionals, public-health experts, government leaders, investors (and the general public) were looking to the biotech industry to develop a "game-saving" vaccine against the novel coronavirus amid the confusion and fears surrounding the COVID-19 outbreak.
The biotech industry has played a critical role in developing and shipping COVID-19 vaccines in record time. Leaders from the Biotechnology Innovation Organization (BIO) have said that biotech's role in the pandemic — and the pandemic's role in shaping the industry, the environment, and innovation — will not go away once the vaccines are administered to the public.
A Shift of Focus to Infectious Disease Research
During the COVID-19 pandemic, a large number of biotechnology companies shifted their focus to infectious disease research. Until 5th Jan 2021, there were 191 COVID-19 vaccine candidates in progress and over 800 clinical trials for various drugs and vaccines, many of which are being developed by companies with no previous experience in the infectious disease sector.
Regardless of whether these attempts by small and large biotechnology companies are eventually fruitful, they should be commended. The complexity of COVID-19 disease has allowed a role for many types of drug mechanisms to be effective, according to Dr. Michelle McMurry-Heath, Ph.D., president, and CEO of BIO. In terms of new therapeutics and vaccines, we are only beginning to see the benefits of this new emphasis.
As a result of the pandemic, organizations that have shifted their focus to infectious disease research will explore new clinical groups and research areas. McMurry-Heath pointed out that just 20 years ago, the industry was still learning the basics of immunology. Immunology is now understood to be central to all and to apply to all diseases. There is hope for even more ground-breaking solutions in the future if companies are innovative and eager to rethink their research.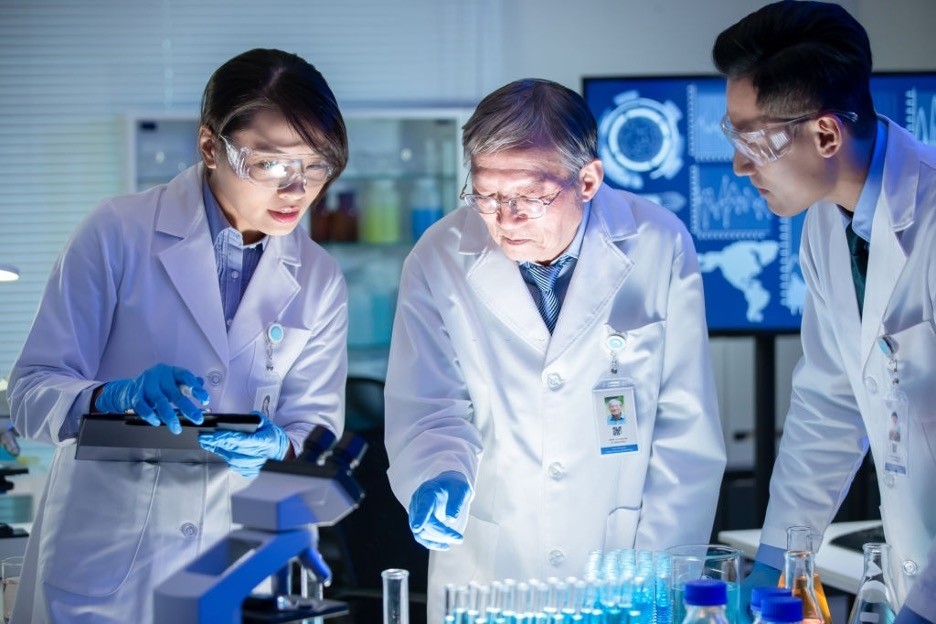 Long-term Implications
In terms of the biotechnology industry's long-term implications, McMurry-Heath and Dr. Jeremy Levin, Ph.D., CEO of Ovid Therapeutics and chair of BIO's board of directors, both agreed that it is a new age, an opportunity to reset the industry and set standards on how quickly science will respond to societal needs.
According to Dr. Levin, now is the time for the biotechnology industry to create bridges with policymakers and agree that the industry is critical to the nation and the world. He believes that for policymakers to cope effectively with the chaos of a pandemic, they must recognize the industry as a critical frontline resource and give it "primacy at the table."
As We Advance
Some new inventions seem to be more likely than others to have a long-term effect. Here are four to think about.
1. Virtual Trials
Digital trials are likely to become the rule, rather than the exception, in the not-too-distant future, given the concerns about clinical trial interruptions and postponements.
Virtual visits, phone interviews, self-administration, and online control are among the FDA's latest recommendations. These modifications were in effect during the phases of quarantine, travel restrictions, and closures, and the new protocols may become permanent over time.
2. Friendly FDA
Biotech companies should expect a warm welcome from the U.S. Food & Drug Administration (FDA). The agency's annual approval rate for new drugs has more than doubled in the last decade, hitting 48 last year. There's no reason to think the pattern would reverse. This is great news for biotech companies and their pipelines.
3. Scrutiny of Imports
Imported drug goods are being scrutinized more closely at U.S. ports of entry, and it's difficult to see the U.S. abandoning that standard in the future.
The FDA warns that it can refuse to allow dangerous goods into the country, perform physical examinations and product samplings, check a company's past enforcement history, and request records ahead of on-site drug inspections.
4. Restructured Supply Chains
Companies based in China are important parts of foreign supply chains in a variety of industries. One of them is biotechnology. Pricing, subcontracting, and other factors have all led to the structure's development and entrenchment.
The disruption generated by COVID-19 has now highlighted the unparalleled country danger that has been created as a result of the procedure. Efforts to regionalize supply chains, create second sources, and build proprietary stockpiles are anticipated.
Final Thoughts
These new advancements have brought about a positive development for industry players, from graduates with a Bachelor of Biotechnology to those in medical biotechnology and biotechnology engineering and the investors.
The future of the biotech industry post-covid-19 is full of great opportunities for everyone involved.
Back